With the rapid advancements in Artificial Intelligence, IP cameras have evolved beyond mere vision and recording devices. Embracing this new wave of technology, Spark has launched Sens-Cam AI, a cutting-edge platform that harnesses the power of AI to deliver advanced information about the scene, beyond the functions of a standard camera.
AI at its Core
Sens-Cam AI is manufactured in Italy and designed for advanced security projects, smart city needs, and business intelligence applications. It's not just an IP camera but a powerful AI device able to process and return metadata along with images.
This device incorporates an onboard neural network accelerator that supports advanced applications based on embedded AI available in 3 sets:
People & Vehicle: Audio Detection, Human/Vehicle Detection & Classification, Intrusion, Loitering, Tripwire, People Density, In/Out Count, and Heatmap.
Face & Mask: Audio detection, Face Detection, Mask Detection.
ANPR (coming soon): Audio Detection, Human/Vehicle Detection & Classification, and License Plate Recognition.
These functionalities run directly on the camera, and there are other AI apps available upon request.

Beyond AI: A Robust Feature Set
Sens-Cam AI is as powerful as it's versatile. The device can be mounted both horizontally and vertically, ensuring the best perspective for vision. It's equipped with a sunshield for protection against sunlight and rain, making it suitable for outdoor use. Moreover, it features a microSD slot for recording on the device, an IR illuminator with modulated light output, and heat sinks for improved heat dissipation. It also comes with an internal microphone and fixed optics for optimal vision.
Sens-Cam AI is available in two models: 2MP and 4K, both compatible with ONVIF profiles S and T. The device supports a range of video compression formats, including H265, H.264 high/main/basic, and MJPEG.
User-friendly Interface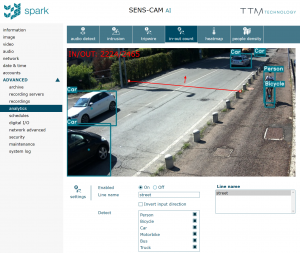 Sens-Cam AI offers a simplified user interface for configuring analytics, events, recordings, and alarms. It supports multistreaming, creating and storing video streams at different resolutions, and transmitting independent streams. The device ensures operation 24/7, abiding by security-by-default principles, and enables efficient real-time streaming of metadata via HTTP.
Integration with ARGO Software
Sens-Cam AI integrates natively with ARGO, Spark's software for comprehensive management of video streams, events, and alarms. ARGO software can acquire metadata from Sens-Cam AI and organize them into tables and charts. The software is designed to help you get the most out of Sens-Cam AI's advanced capabilities. Sens-Cam can also integrate with third-party software.