An elevated body temperature could be indicative of a fever, one of the symptoms of a viral infection. Therefore body temperature control has quickly become an important measure to control access to an area and raise the security level during the Covid-19 emergency. The right technologies can help us, but an integrated and tailored approach to the real context is needed.
Fever detection
Our Thermoscan by Omnieye allows you to automatically measure people's body temperature at the entrance of an office, a shop, a supermarket, a subway, an airport, and any other closed area simply framing the face or, in another version, placing the wrist next to the device.
If body temperature is higher than the limit set during the installation, Omnieye Thermoscan triggers a warning and, if connected to an automatic gate through digital I / O port, it can also lock it. Fever detection takes less than 1 second, with ± 0.3° C accuracy.
Mask Detection
Body temperature control works even if the person wears a safety mask, and it is possible to set a specific alarm if the mask is not present. Omnieye Thermoscan has an optional face recognition feature for a higher level of security in private areas.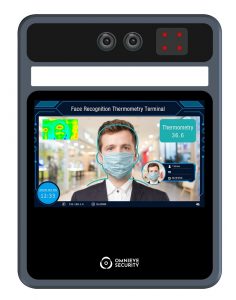 Easy installation
Omnieye Thermoscan can be easily installed on walls, desks, or directly on the floor through dedicated supports. Another important feature of this device is the LAN (RJ45) and Wi-Fi connection. There is also an optional radio-frequency identification (RFID) feature for smart cards.
Thanks to our Access Manager – a web-based device management software entirely developed by Spark Security – it is possible to control many devices at the same time, view video streams, check logs, manage alarms and white/black lists.