Sens-Cam AI had its international debut in the USA at CES 2022, the largest yearly tech show in the world, held in Las Vegas from 5 to 7 January. Sens-Cam AI was hosted by Kneron, our AI SoC partner.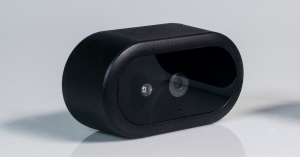 Sens-Cam AI is the perfect merge of security and business intelligence devices, providing both images and behavioral analytics with its advanced neural network accelerator on-board.
At CES 2022, Sens-Cam AI was set up live for visitors to experience firsthand the powerful embedded AI. The device supports many features at the same time, such as people and vehicle detection, counting, density, intrusion, tripwire, loitering, and even heat maps, an advanced graphical representation of people flow.
The most welcomed Sens-Cam AI feature at the exhibition has been face mask detection, which enables automatic spotting and alarm triggering of people not wearing a face mask, making this solution perfect for shops, stations, airports, and any area where masks are required to protect people from Covid-19 and other diseases.
Sens-Cam AI provides real-time metadata describing scenes and events via HTTP/HTTPS streaming push. As a result, it allows high privacy protection because metadata are transmitted independently from the video streaming. Metadata can be stored and managed by third-party software, allowing statistics and quick events retrieval. Sens-Cam AI is also ONVIF compliant for better NVR integration.
Security measures may change over time, as well as business intelligence needs, and Sens-Cam AI can support different uses. Spark also provides customized solutions, allowing new AI applications to be added to Sens-Cam AI on request and help in solving complex problems.
Cover picture: Consumer Technology Association