Many devices can now connect to the internet and communicate with each other providing useful data. It's the Internet of Things. Milesight IoT products offer secure and fast connection for cameras, sensors, machines and whole systems, even very far from each other.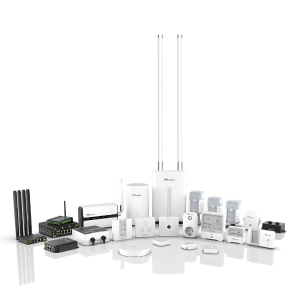 There are different applications, such as security, industrial automation, transports, access control, electronic payments and everywhere the fast transmission of information between devices and systems can make the difference.
Formerly known as Ursalink, Milesight IoT series include powerful industrial routers and LoRaWan data transmission devices.
Milesight IoT industrial routers support 4G and 5G mobile technologies to build secure and ultra-fast wireless networks to collect data and manage information remotely. One example is the 5G UR75 industrial router that uses a high-performance Quad-Core industrial processor.
Milesight IoT sensors can collect data such as temperature, humidity and quality of air and water. The LoRaWan protocol allows a low-power transmission of this information.
Milesight now combines the potential of AI and IoT or a new concept in the video surveillance industry: the AIoT.
Spark is the official partner of Milesight in Italy and manages the distribution of both Milesight IoT and Milesight for video surveillance products, through selected distributors and system integrators.