Milesight combines the potential of Artificial Intelligence and the Internet of Things for a new concept in the video surveillance industry: the AIoT. A merge of technologies to enhance data-driven security management.
Milesight is one of the most innovative IP cameras, NVRs, and security software manufacturers in the world. The AI Series – including bullet, dome, PTZ, and panoramic cameras – provides the most important video analysis features, such as people counting, motion detection, and perimeter control.
Since 2019, Spark is the main partner of Milesight in Italy.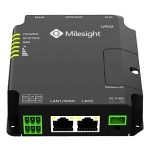 Milesight has recently opened up to the world of IoT, providing LoRaWan sensors to collect data such as temperature, humidity, and quality of air, and powerful industrial routers – like the UR32 – to build secure and fast wireless networks. 
Milesight AIoT has been born from the merging of AI and IoT technologies. The fast transmission and processing of the information collected by IP cameras and smart sensors provide more useful data to make better decisions. A key factor for the success of a security project.