TTM Technology is taking part in an experimental smart city project in Rome supported by Sony Europe.
The aim is to increase pedestrian safety, reduce vehicle traffic and optimise public transport, using a new smart vision system. The solution revolves around a tip installed on top of the existing traffic light poles, with two sensors inside facing the surrounding roads.
The smart tip, already given the name of Genius, will capture and process information about the position of available parking spaces, the presence of people at pedestrian crossings, the number of passengers boarding and alighting from buses and trams and those waiting at bus shelters. The metadata are then transmitted in real time to an cloud-based software platform by Envision, which provides useful information to car drivers and public transport network managers.
TTM Technology brought in the expertise of DPControl and Spark to quickly develop the project concept and turn the Genius smart tip into reality.
Specifically, DPControl trained neural networks and automated metadata generation and produced the DAXPY platform using Sony's IMX500 artificial-intelligence-based image sensor. At the same time, Spark took care of product engineering, designing the system for assembly and the adjustment of the optics and the various technologies in the Genius smart tip.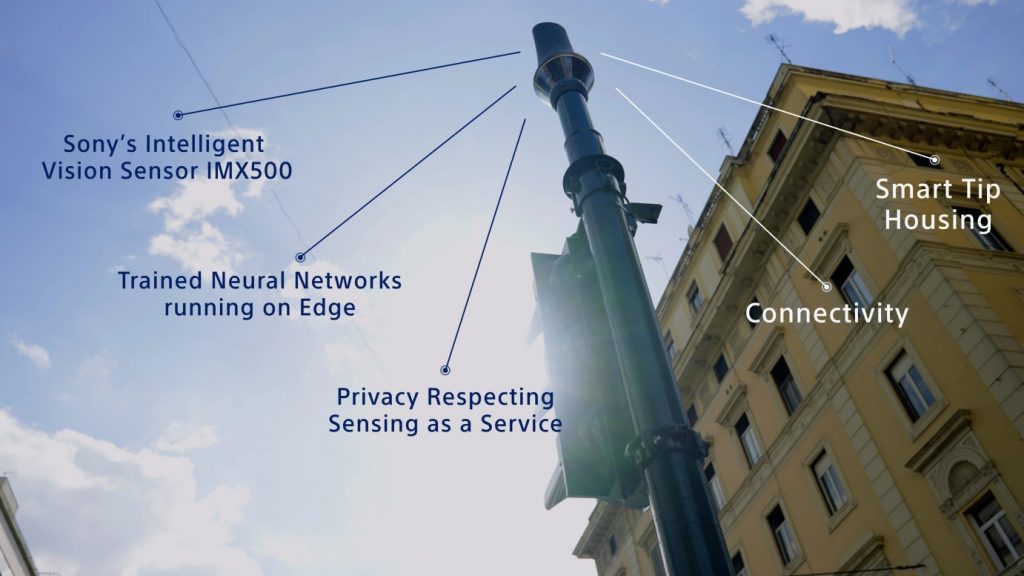 The Genius pole is a model of what a smart city effectively means and how new computer vision technologies can help improve quality of life, by increasing citizens' security while respecting their privacy, improving the efficiency of public services and exploiting existing infrastructure to optimise operating costs.
Citelum will take care of the physical installation of the tips, and the testing phase will begin in June in the centre of the capital. Indicators of the project's effectiveness will be a reduction in traffic jams and the resulting pollution, a reduction in crowding on public transport and a decrease in accidents involving pedestrians.
Sony Europe press release